With Fiers firing K's, Brewers power to series split
Davis, Reynolds homer behind righty's 14 K's as Crew preps for LA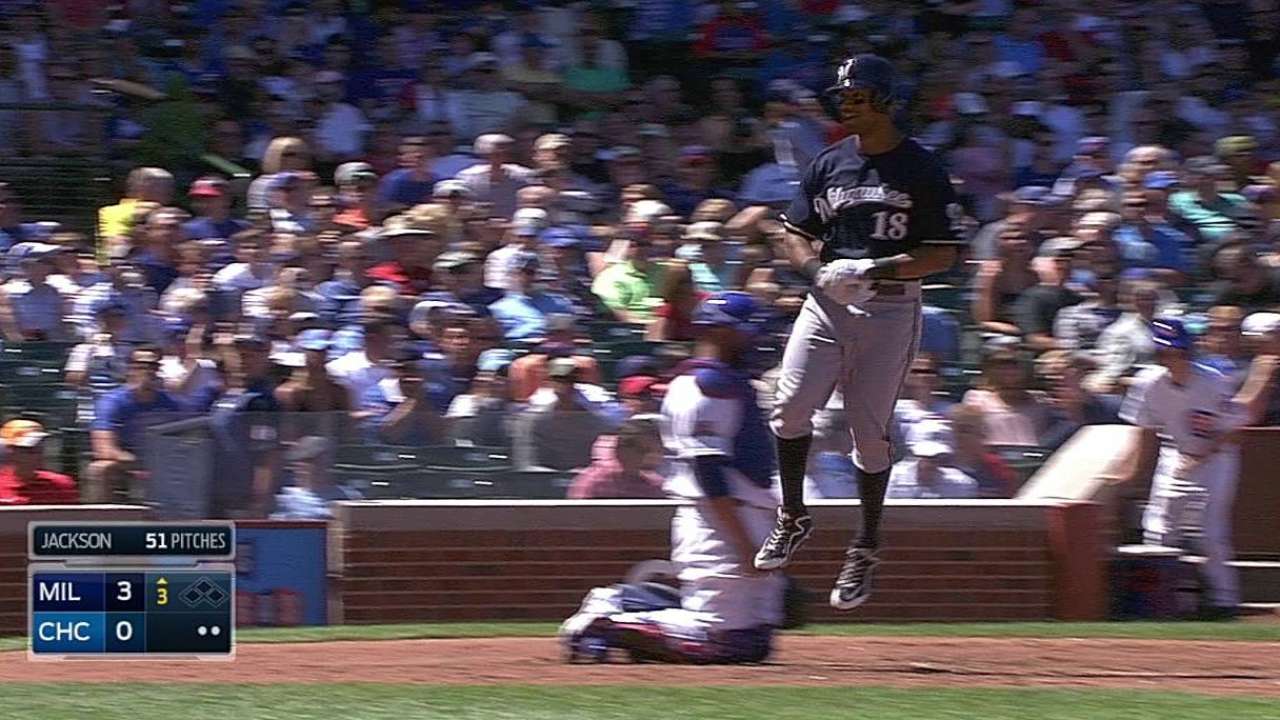 CHICAGO -- A series loss to the last-place Cubs would have burned, but strikeout machine Mike Fiers and the Brewers could stomach a four-game split.
Fiers did not allow a run while logging a stunning 14 strikeouts in six innings, helping to ease concerns about injuries to two other Brewers starters while sending Milwaukee to a 6-2 win at Wrigley Field on Thursday.
"Just getting the win is awesome after losing the last two," Fiers said. "We definitely need to get back on the winning side of things and go from there. Personally, obviously it was a great outing with a lot of strikeouts, but the biggest thing was getting the win."
The victory was all the more important for the Brewers as they head to Los Angeles to face the Dodgers for the second consecutive weekend in a showdown between the leaders of the National League's Central and West Divisions.
"When you're winning games and you're going in to play somebody good -- it's important," Brewers manager Ron Roenicke said. "When you're losing games, for whatever reason, maybe the offense is not swinging the bat, it's hard when you go in and face their pitching."
Fiers will be a spectator in that series after delivering a second straight stirring start in place of an injured Matt Garza. Fiers scattered three hits with one walk and a career high in K's, snapping the Brewers' streak of 286 games without a double-digit strikeout performance. The last to do it before Thursday was Fiers, who struck out 10 Astros on Sept. 30, 2012.
It was only the fourth performance of 14-plus strikeouts in Brewers history, with Fiers matching totals from Moose Haas in 1978 and Yovani Gallardo in 2012. The club record remains property of Ben Sheets, who set down 18 Braves on a sun-splashed afternoon at Miller Park in May 2004.
After a tough season both on and off the field in 2013, Fiers said his confidence has not wavered this year.
"I feel like I've been pitching like this all year," Fiers said. "I kind of got my confidence back from last year, probably in winter ball. Coming into Spring Training, I felt good. I just took off from there. Yeah, I got sent to Triple-A, but it didn't kill my confidence sending me down. I just had to wait for my opportunity and do it now."
The only problem with recording 14 of 18 outs via the strikeout was Fiers' sky-high pitch count, which stood at 93 after five innings and prompted early stirring in the Brewers' bullpen. Fiers returned for the sixth and struck out the side for the second straight inning, pushing his final count to 106 pitches, 71 strikes.
By then, the Brewers led comfortably. Though Cubs starter Edwin Jackson shut down Milwaukee with seven scoreless innings in May, the Brewers struck early on Thursday. Scooter Gennett cashed in on a pair of two-out walks issued by Jackson in the first inning by delivering a two-run double that struck the base of the ivy-covered wall in right-center field.
"I think we're more selective," Gennett said of the team's approach against Jackson. "Edwin's got really good stuff, so I think it's important to swing at good pitches and try to be aggressive early. He's the type of guy you don't want to get to two strikes on. I think we did a good job of that today."
Khris Davis followed two innings later with a two-out solo home run to left. It was Davis' 20th home run this season, briefly moving him into a tie with Mark Reynolds for the team lead. Reynolds reclaimed the lead when he belted a solo homer in the eighth inning.
Add Carlos Gomez's RBI single in a two-run fourth inning, that also saw an RBI triple by Elian Herrera, and four of the Brewers' five runs against Jackson (4 2/3 innings, seven hits, five earned runs, three walks, four strikeouts) scored via two-out hits. Reynolds' homer off reliever Kyuji Fujikawa also came with two outs.
With the six-run day, the Brewers eclipsed their run total from the first three games of this series.
"I think the elements hurt us really early," Roenicke said. "We crushed a couple balls. 'Gomey' to lead off the game, and that ball Scooter hit, that's gone out everywhere except for [Wrigley] when the wind's blowing against you. We could've scored a lot of runs, meaning that yes, it was a great offensive day."
The Brewers won Thursday with three of their regulars missing from the starting lineup. Right fielder Ryan Braun, third baseman Aramis Ramirez and shortstop Jean Segura all had the day off.
"It's always good when you need to give somebody a day off and whoever steps in does a good job for you," Roenicke said. "They covered those guys pretty well."
Adam McCalvy is a reporter for MLB.com. Read his blog, Brew Beat, and follow him on Twitter at @AdamMcCalvy. Caitlin Swieca is an associate reporter for MLB.com. This story was not subject to the approval of Major League Baseball or its clubs.