Chisenhall's career night leads Tribe's rout of Rangers
Infielder belts three homers, drives in nine as onslaught delivers finale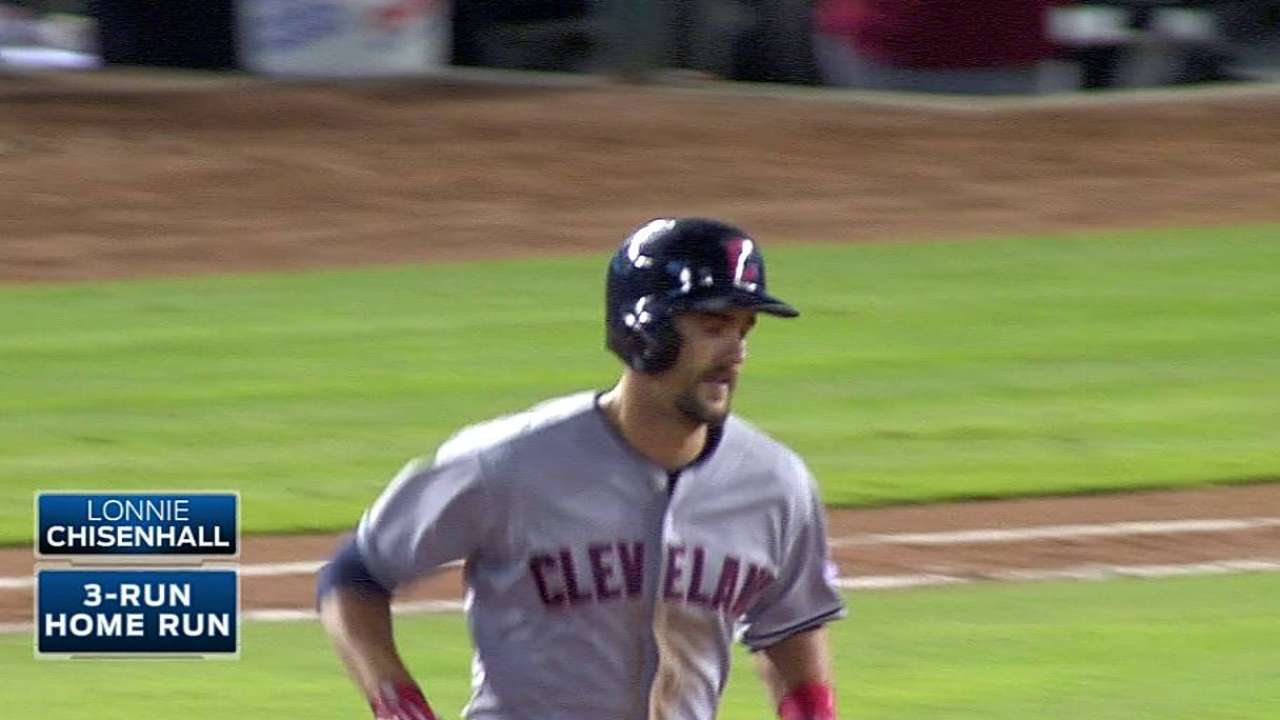 ARLINGTON -- Scan the players listed on this summer's American League All-Star ballot and Lonnie Chisenhall's name is nowhere to be found. During Spring Training, when teams turn in names for the annual vote, there were no guarantees that Chisenhall would be on the Opening Day roster.
Now, with roughly one month remaining until the Midsummer Classic, it is hard to imagine Chisenhall not being worthy of a spot on the league's elite squad.
On Monday night in Texas, Chisenhall continued one of baseball's most unlikely first-half surges, belting three home runs, churning out five hits and collecting nine RBIs in a 17-7 rout of the Rangers. It was not just a career night for the Cleveland corner infielder, but one of the greatest single-game performances in baseball history.
"I know a day like today is kind of a once-in-a-lifetime thing," Chisenhall said. "I'm just so happy."
In helping lead the Tribe to a series victory and its ninth win in 10 games, Chisenhall became only the fourth player in all of baseball in the past 100 years to have at least three homers, five hits and nine RBIs in a game. The others on that short list include Boston's Fred Lynn (June 18, 1975), Brooklyn's Gil Hodges (Aug. 31, 1950) and Cincinnati's Walker Cooper (July 6, 1949).
Chisenhall is the only one within that historic quartet to not record an out.
Chisenhall's nine RBIs matched a franchise record, which was first set on May 4, 1991, by Chris James. This marked the 32nd time in club history that a player had at least three home runs in a game, falling one blast shy of Rocky Colavito's four-homer game in 1959.
Simply put, Chisenhall enjoyed arguably the greatest offensive night in Cleveland's 114-year history.
"I'm enjoying it as much as I can," said Chisenhall, whose bat, jersey and spikes were being authenticated after the game. "I don't know the history of it -- who's done it in the past. They told me it's a short list and I'm proud to be any part of a short list."
When camp opened for the Indians during the spring, Chisenhall was not sure how he would fit into the team's plans. Carlos Santana was given the regular at-bats at third base and Chisenhall's career track record convinced manager Terry Francona to limit his exposure to left-handed pitchers. When camp broke, Chisenhall accepted his job as a role player and looked to earn back the Indians' trust.
These days, Francona is looking for any way possible to keep Chisenhall in the lineup. The 25-year-old infielder has handled third base, been slotted in as a designated hitter and, more recently, slipped on a first baseman's glove to help out across the diamond. Chisenhall has even offered to play the outfield if it means his name will be in the lineup.
All of that has offered Francona some flexibility, but it is Chisenhall's bat that has forced the manager's hand.
"He's played himself into getting more responsbility," Francona said. "I think we always hoped he would. I'm not sure he quite always understood that. I think he's starting to now and he's realizing that, by playing the game the right way, you gain trust and you're accountable."
Due to being limited to facing mostly right-handers in April, Chisenhall entered Monday's game 20 plate appearances shy of the current minimum requirement (195.3) to qualify for the batting race. While Chisenhall's name is not on the official leaderboard at the moment, he has the highest batting average (.385) among Major Leaguers with at least 100 plate appearances.
Indians second baseman Jason Kipnis, who only had three hits and four RBIs in Monday's win, is hoping the fact that Francona is on the All-Star staff can help Chisenhall's chances.
"He definitely has a good thing in Tito being on the [coaching staff]," Kipnis said. "As he gets more at-bats and he starts qualifying for things, it's hard not to know his name when he keeps putting up nights like tonight, and with the way he's hitting at the plate and contributing right now."
In the finale of this four-game set at Globe Life Park, Chisenhall established new career bests in RBIs and extra-base hits (four) in a single game. This marked his second five-hit game of the season (also accomplished on May 14 against Toronto) and the second multi-homer game of his career (also on Sept. 9, 2011 against the White Sox).
Since his average sat at a season-low .325 on May 13, Chisenhall has hit .440 (37-for-84) with six home runs, eight doubles and 29 RBIs in 24 games.
"He's attacking the ball right now," Kipnis said. "Right now, he's in one of those zones, when he attacks, he's just not missing. That's a fun zone to be in."
Within a three-run outburst by the Tribe in the first inning, Chisenhall pulled a pitch from Rangers righty Nick Martinez into right field for an RBI single. One inning later, when Cleveland pounded out five more runs, he launched a 1-1 offering down the right-field line for a two-run home run. Martinez hit the showers after allowing eight runs on six hits in just two innings.
Chisenhall's next homer, a towering two-run shot to right-center, came off Scott Baker in the fourth. The onslaught continued in the sixth inning, when Chisenhall fouled off five pitches from Baker before slicing one to the wall in left-center for an RBI double that gave the Indians a 13-6 advantage. In the eighth inning, Baker yielded Chisenhall's third homer of the night, a three-run shot.
"I just felt like I could get the barrel on most pitches tonight," said Chisenhall, who now has seven homers this year. "It was just a contagious night for everybody. Everybody was swinging the bat well. It was a good thing to be a part of."
Besides Chisenhall's showing, left fielder Michael Brantley belted his 10th home run of the season (tying a career high) and ended with two hits, two walks and five runs for the Tribe. Catcher George Kottaras added a solo home run in the second inning and shortstop Asdrubal Cabrera had two hits and three runs.
That more than overcame a rough night for Tribe lefty T.J. House, who surrendered six runs on six hits in only 3 1/3 innings.
Chisenhall's historic night led the charge.
"What he's turning into is fun to watch," Francona said. "It's right in front of our eyes, and it's fun to watch."
Jordan Bastian is a reporter for MLB.com. Read his blog, Major League Bastian, and follow him on Twitter @MLBastian. This story was not subject to the approval of Major League Baseball or its clubs.