You know what's cool? Playing in the Major Leagues. You know what's even cooler? Playing in the postseason. You know what's coolest? Getting an 800 on the math section of the SAT.
Wait, stick with us on this one! We don't live in a John Hughes movie, and that means we don't have to choose between being a jock and being a nerd. Like Rangers reliever Ross Ohlendorf, we can be both. And yes, we count Ohlendorf as a nerd even though he told Tim Kurkjian that his math SAT score wasn't quite perfect:
"I got one wrong,'' he said.
Ohlendorf completed a degree from Princeton in 2006 and wrote a thesis so good it got him an Associate Membership in Sigma Xi: The Scientific Research Society. You know who else was in Sigma Xi?
And Albert Einstein is pretty great, but did he get a save in Game 2 of the ALDS?
Sure, you might be saying, one Major Leaguer has an Ivy League degree, but that doesn't mean we've hit "board game convention" levels of nerdiness. All we have to say to that is, take a look at Tuesday's slate of games. Chris Young started ALCS Game 4 for the Royals and is also a Princeton grad. Kyle Hendricks, the Cubs' NLCS Game 3 starter, is a Dartmouth alum.
Young finished his degree in politics in 2002 after writing a thesis called "The Impact of Jackie Robinson and the Integration of Baseball on Racial Stereotypes in America: A Quantitative Content Analysis of Stories about Race in the New York Times."
He later told the NYT how he thought his education helped his pitching career, despite dealing with injuries and declining velocity over the past few years:
"Maybe I have lost a few miles an hour on the fastball," Young said, "but I hope I can make up for it with a little bit more between the ears."
Hendricks majored in economics and got his own diploma in 2013. But does understanding the intricacies of supply and demand make you a better baseball player? Last season, Hendricks explained to MiLB.com's Josh Jacksonhow his degree helped him:
"You're not out there on the mound thinking about equations -- but it is a similar mindset. What they have in common is critical thinking. You have to be thinking about pitch sequences and what guys are trying to do, and you watch a lot of video of these really good hitters, trying to find holes or just thinking of a different way to go after them. That's all critical thinking."
Just remember -- now it's cool to be a nerd: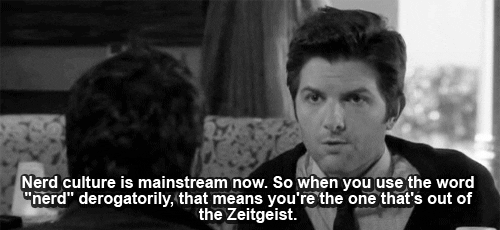 So go ahead and send your college applications to Theo Epstein and Dayton Moore -- who knows, you too could be on a postseason team next year! (But probably send them to actual colleges too, unless you can throw a pretty amazing sinker as well.)
This story was not subject to the approval of Major League Baseball or its clubs.