Derek Jeter is no longer a professional baseball player. There. We said it.
While it's a reality we've all got to get accustomed to, no one is feeling that vacancy more than Yankees fans -- who spent two decades admiring No. 2 at the No. 6 position.
But now, fans can rest assured knowing that there will be a human person wearing pinstripes and positioned between second and third on Opening Day. That human person is now former D-back Didi Gregorius.
The Yankees acquired Gregorius in a three-team deal that will send pitcher Shane Greene to the Tigers, who will send pitcher Robbie Ray and infield prospect Domingo Leyba to the D-backs.
Reds special assistant Kevin Towers was the GM of the D-backs when they acquired Gregorius back in 2012. Towers had spent time within the Yankees organization and was lucky enough to have been able to scout The Captain back when he was a high school kid in Michigan. When he sent right-hander Trevor Bauer to the Indians in exchange for Gregorius, he had this to say about the Dutch shortstop's makeup and potential:
"When I saw him he reminded me of a young Derek Jeter," Towers said, referring to the Yankees' longtime shortstop. "I was fortunate enough to see Jeter when he was in high school in Michigan and he's got that type of range. He's got speed. He's more of a line drive-type hitter, but I think he's got the type of approach at the plate where I think there's going to be power there as well."
A handful of months after Towers made those comments, Jeff Sullivan looked to verify the validity of the comparison and found that while Gregorius and Young Jeter are obviously two different players, they might be able to provide similar value to a franchise looking for a permanent fixture at baseball's most difficult fielding position.
But here's the similarity between Gregorius and a young Jeter: both their employers have been more than pleased. Jeter instantly hit and took to New York. Gregorius has instantly hit and instantly fielded, even ahead of the Diamondbacks' intended schedule. Gregorius will be carried by his defense, and his defense is his strength, which we've known to be true all along. But there are indications that he could be a threat offensively as well, even if he isn't going to keep slugging in the .500s. A guy with speed, controlled aggression, and some pull power can hit good pitchers, and what Gregorius has left is to demonstrate some capacity to hit the other way. That's probably going to be his adjustment, and we can't predict how it'll go.
Gregorius himself is a great admirer of The Captain. Maybe one day some young player will give him the same kind of artistic tribute that he gave Jeter earlier this year:
Image courtesy @DidiG18
But obviously taking over for Jeter is a lot to ask of a young player -- something of which Yankees GM Brian Cashman is well aware:
No one will replace Derek Jeter. He was one in a billion. He's not replacing Derek, he's just now going to come in here, obviously compete to hold down that position at shortstop, assist us with Brendan Ryan, obviously provide us with defense and some offense at the back of our lineup, and hopefully collectively contribute to the win column along with the rest of his teammates. But I can't approach, and never have approached, trying to put that type of pressure on [him] in replacing Derek Jeter.
Two years after joining the D-backs and drawing the Jeter comparison, the Bronx Bombers are hoping that Gregorius can fill The Captain's special edition commemorative spikes. Literally.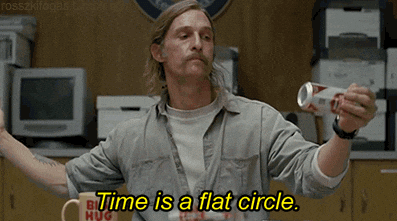 This story was not subject to the approval of Major League Baseball or its clubs.